2020 Diaries - Plain and Simple. Never Boring!
2020 Diaries with a Splash of Zebra
The 2020 Diaries with plain colour covers are great and doing well, thanks to those who've already purchased. We've now added a new set to make them even greater. If the standard plain covers aren't for you, try our 2020 Large Print Diaries with the zippy zebra pattern covers. Still in all eight colours, these just broaden your scope for choice.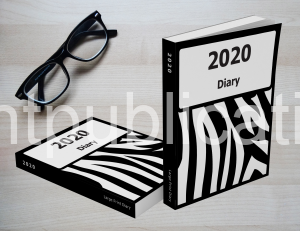 These diaries are available on Amazon worldwide, together with our launch set. The plain and clear insides haven't changed, with their black and white, monthly and weekly planners.
Looking ahead, we'll soon be loading up our Freebie "Lucky Dip" Printables, so be sure to keep an eye out for what's coming next.
Until then, happy reading!
Colleen